Fermentation and aging
Box of 2 units (20 sticks per unit)

---
XtraChêne's R&D team developed the Stick 22.90, intended for the aging process of premium red, white or rosé wine.
The distinctly unique characteristic of the Stick 22.90 lies in its shape: its square base, measuring 22 mm (7/8''), and length of 90 cm (35.4''), is ideal for allowing a progressive diffusion of oak compounds to release into the wine. The Stick 22.90 adds greater complexity with more blended results and is ideal for aging processes of 6 months or more. 20 sticks are linked together to form a Stick 22.90 unit.
---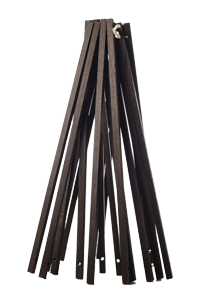 ---



Origins

French oak: Sessile oak (Quercus petraea), and Pedunculate oak (Quercus robur).

American oak: White oak (Quercus alba).

Seasoning

French oak is naturally open air-seasoned for a minimum of two years.

American oak is naturally open air-seasoned for a minimum of three years.

Toast levels

The following toast levels are available

French oak:

- Convection : Pastry, Medium and Medium plus

- Oak fire : Quattro and Terroir

American oak :

- Convection: Medium or Medium plus.

Packaging

Wood-grade cardboard box containing 2 units (40 sticks total).