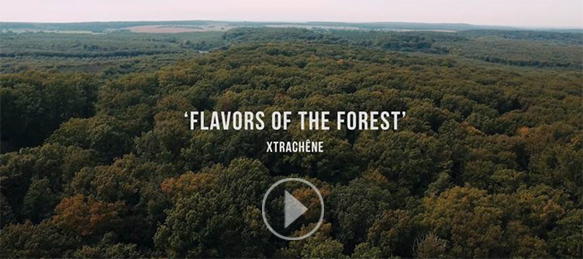 Discover the world of XtraChêne in video

Innovation is fundamental to XtraChêne's oak alternative product line. A daily focus on researching and developing products to best suit our customer's requirements is the preoccupation of the R&D team.

The team's combined knowledge of wine and coopering know-how enables them to perfect existing products, as well as create and develop new ones. This is precisely how the Stick 22.90 was created, and how oak fire toastings of the Stick 22.90 were perfected.

This work is based on the implementation and monitoring of property testings, sensory and chemical analyses, and extensive tasting trials.
As far as XtraChêne is concerned, producing oak alternatives requires first class technical skills and quality monitoring.

- Effective tools

The specific equipment used to produce and toast XtraChêne oak alternatives is located in workshops devoted to such activities: in Segonzac in France, and in Lebanon, Kentucky, in the United States.

XtraChêne has a new-generation toasting machine and a tool designed specially for toasting the oak-fire sticks.

- Controls

All lots of oak used are analyzed according to our HACCP plan regarding haloanisole and halophenol compounds and meet the requirements of the OIV and regulatory texts.

- Traceability

From the moment an oak tree is selected, a unique lot number is assigned and maintained throughout all the processes of seasoning and production, and then labelled on the end product when completed. This allows XtraChêne to guarantee the traceability of each product.




- Official certificates

You can see our detailed actions here.
Chêne & Cie's stave yards hold their valuable selections of quality French and American oak staves for seasoning.

XtraChene's Oak wood is open air-seasoned in stave yards for a minimum of two years for the French Oak and three years for the American Oak, according to Chêne & Cie specifications. These sites cover several hectares and represent a unique wealth in the form of stored top-quality oak that guarantees the independence of our supplies.

Each lot of oak that enters the seasoning yard is carefully sorted, recorded and identified beforehand. The effects of this natural yard seasoning include the maturation of tannins and the development of beneficial aromas and flavors.
Understanding a forest is at the heart of our trade. Our refinement begins when we select the finest oaks growing in the best forests of France and the United States.

XtraChêne prides itself for having its supply of oak shared by both Taransaud and Canton Cooperages.
Chêne & Cie wood buyers select oak trees according to the quality criteria established by the group's cooperages.

From extensive experience, Chêne &Cie's wood buyers are able to identify the best suited live oaks that meet the specific quality criteria established by the group's cooperages. Specifically; grain tightness, homogeneity of shape, and sessile or pedunculate oak, etc.

Carefully selected logs are then taken to Chêne & Cie's stave mills, where they are hewn into rough staves, to later become either barrel staves, or oak alternatives.

XtraChêne is a pioneer in sustainable development and has been PEFC certified since July 2013.


XtraChêne is committed to the PEFC program, which promotes sustainable forest management. This program ensures that ecological, economic, social and ethical standards are met when implementing such practices.
Oak wood and wine are two precious and naturally derived products that blend harmoniously during the aging process.

Offering oak wood at the service of wines and spirits is the raison d'être for Chêne & Cie, a family company that owns three cooperages: Taransaud (French oak), Canton (American oak) and Kádár (Hungarian oak) as well as Xtrachêne, the specialist in oak alternatives.

These four Chêne & Cie brands are international references, and are renowned for their unique know-how which is synonymous with quality and high standards.

Xtrachêne gets its supplies exclusively from Chêne & Cie stave mills in France and the United States, where oak is seasoned naturally in the open air for a minimum of 24 months for the French oak and 36 months for the American oak.